We've talked before about the importance of successful design being based on form following function. The style and appeal of a product have a great deal to do with its saleability. In some projects we've collaborated on, the aesthetic design can be a key part of the brief.
In 2018 we were approached by Guidance Automation with the challenge of designing a functional outer casing for their existing AMR (Autonomous Mobile Robots).
The AMR is used in a huge – and growing – marketplace as a picking assistant: e-commerce, automotive production lines, electronics manufacturing plants, pharmaceutical manufacturing to name a few. Using an AMR to for mundane and repetitive roles, such as transporting parts from one location to another, means that human input can be used in areas where they add value.
Form follows function
Function played an important role in this project, of course. The aim was to design a base that housed the existing motorised drive train and electronic navigation system of the AMR.
As part of the technical specifications we ensured that the components were easily accessible for maintenance, servicing and repair. It also incorporated a universal interface to support a lifting mechanism and variety of modular tops – of which we designed two, a conveyor-top and a pick-assist version. With these complete, the entire AMR was market ready – in function at least.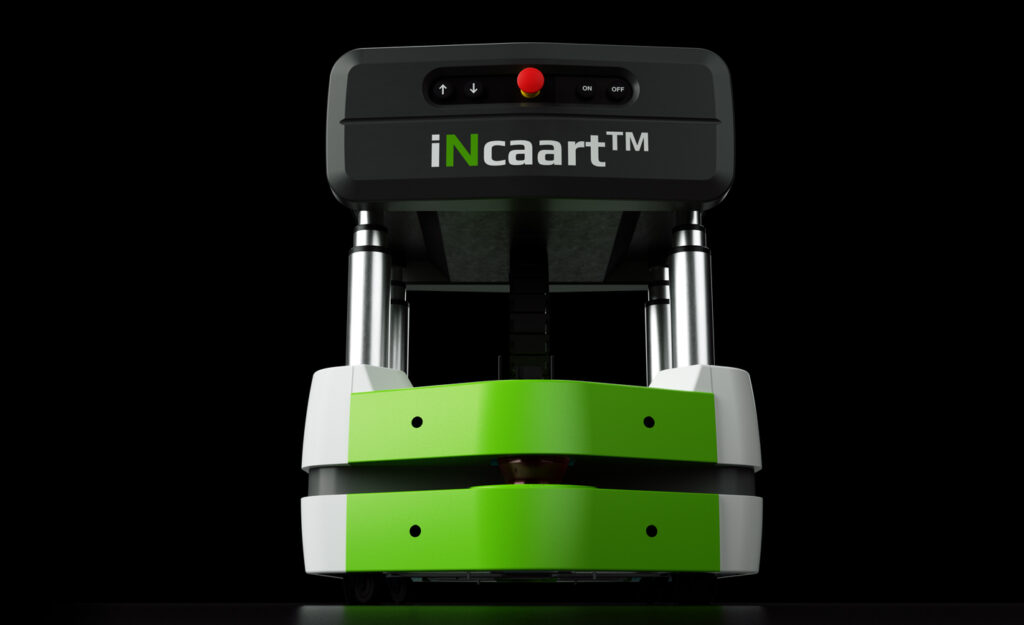 Key aspects of the form
The form of a product is led naturally by successful function. In this case a key requirement of the client was that it would also be aesthetically pleasing.
There are a number of reasons for aesthetic design, an obvious one being improved marketability. Humans are naturally drawn to products we like to look at – a bias towards things that are attractive. In a highly competitive marketplace, an AMR that is eye-catching is more likely to make a memorable first impression.
Another aspect of a product design is to consider the 'halo effect'. This is a psychological concept that states that the when a product looks good, we automatically assume it has more value and better qualities than another.
When dealing with robotics, the aesthetics can carry even greater importance. There are a number of factors to consider –
It should take into account usability – making the technology simple and functional.
An aesthetic design that increases the perceived value of the robot encourages users to take more care of it – prolonging its lifespan.
And, it cannot be ignored that where a robot may be seen as a human replacement, a pleasing design will encourage the user to see it as a tool rather than a complication.
In short – aesthetic design encourages a more positive emotional response.
Environmental considerations in aesthetic design
The final consideration of the visual design was the environments where the AMR would function. The leading marketplaces include manufacturing and factory settings, where large machinery and technology are not out of place. In these locations the AMR would need to be both sturdy and rugged.
However, another aspect of the project specification is that automated robots have a place in public facing locations such as hospitals – moving laundry for example. In this environment where public and staff unfamiliar with AMR may come into contact with it, the product needed to be non-threatening while still carrying the warning lights and symbols required by Health and Safety.
The team at Bluefrog Design took the company branding as a base line – giving us a tough, strong looking frame in friendly green and white brand colours.
The end result – a visually pleasing, eye-catching design that speaks to strength, versatility and reliability. The AMR is appealing to customers, has the added-value appeal that encourages staff to take more care of it, and all the function required for the multitude of marketplaces. A beautiful merge of function and form.
If you'd like to know more about Bluefrog Design and how we can help bring your projects to life please click here or call us on 0116 2530612.