It's fair to say that we are inspired by technology. It has brought incredible changes to industry, in our homes and workplaces and, notably, in our hospitals and healthcare. Arguably it's here, in the medical sector, that constant development of technology has had the largest impact on our modern world, saving countless lives and improving lifestyles around the world.
At Bluefrog Design we are very proud of the role we've played in bringing new products to the market. Our 3D printed chest guard solution – winner of the Advanced Healthcare Award 2018 – may be specific to sufferers of Paraesthesia, but our work with Cinoptics to design the IRIS Virtual Microscope – used to train surgeons in cataract surgery –will help restore the sight of hundreds of thousands of people who otherwise would have never seen again.
However, not everything we develop is meant for a specific end use. We are often involved in experimental design that tests theory and feasibility at the very beginning of an idea, with untold applications to be discovered – placing us at the forefront of emerging technologies.
Leading the way with Research and Development
Over the last 11 years we've been involved in a number of collaborative projects and feasibility studies, working alongside businesses and universities such as Strathclyde and Oxford, and funded by bodies like Innovate UK.
Being involved at the start of the journey gives us a unique insight into the capability of new technologies; we can then use that knowledge for future projects that cross industries and products.
For example, we recently worked in collaboration with De Montfort University School of Pharmacy on a project with two purposes – to explore the process of freeze-drying of pharmaceuticals and to be able to create laboratory scale equipment using Through Vial Impedance Spectroscopy (TVIS). The project, BioStaRT, was successful both in the further development of TVIS and in developing an innovative, fully functioning bench top freeze-dryer.
Building on this technology, we are now collaborating with the Centre for Process Innovation (CPI), GEA Lyophil and others on Project Atlas, investigating and testing technology from BioStaRT to measure the freeze-drying process and ensure pharmaceuticals are developed to an appropriate standard for medical use on an industrial scale.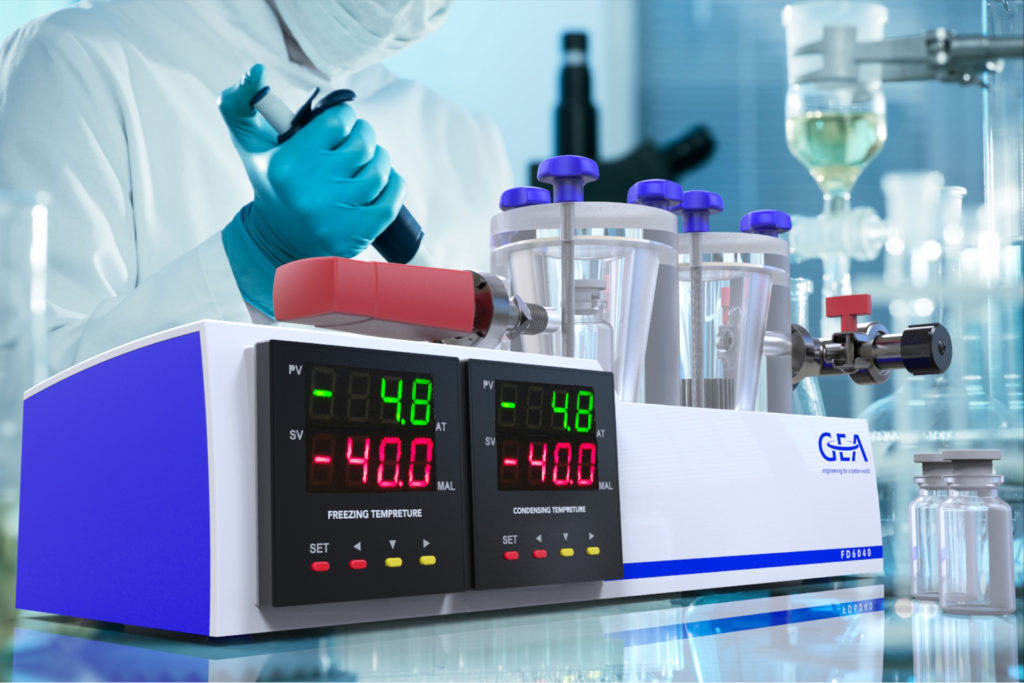 Exploring ElectroHydroDynamic Atomisation (EHDA)
In a new and exciting R&D project, and thanks to EPSRC funding, Bluefrog Design and De Montfort University are exploring the use of EHDA technology and its applications.
The use of EHDA technology allows us to break down a solution and dispense it via precision nozzles to fabricate highly functional micro and nano-scaled structures which can be used for a wide range of medical applications. The process is already playing a major role in the Atlas project.
Our own development in the project may be focused on the physical engineering elements of the delivery system, such as the nozzle technology. However, as part of our commitment we are funding a PhD student to research the various medical applications for EHDA – pharmaceuticals and drug delivery, tissue engineering and regenerative medicine, skin care materials and even food technology.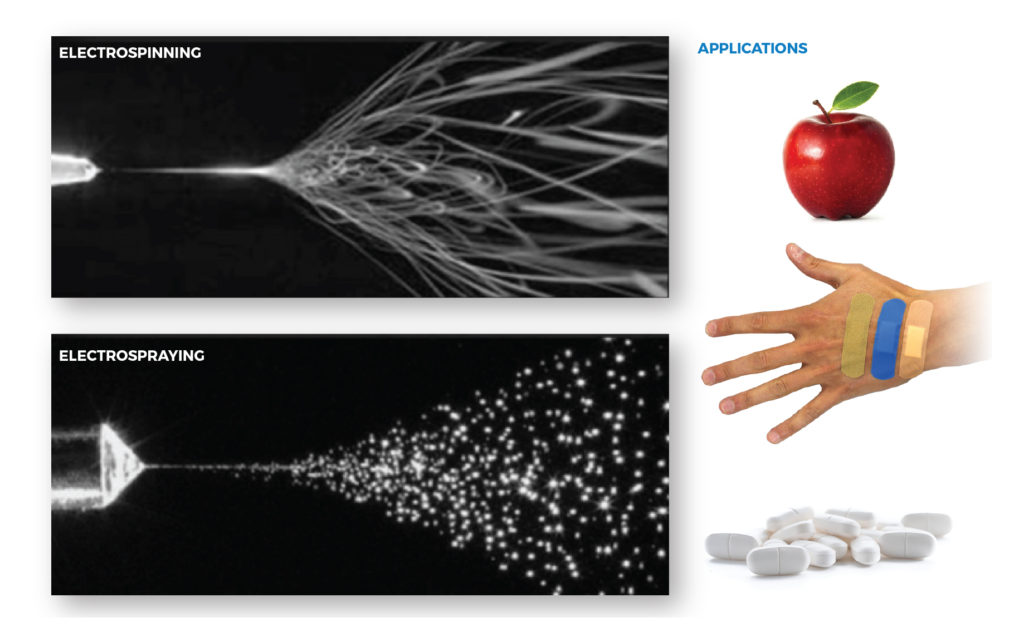 If you're interested in EHDA please click here or call us on 0116 2530612.
Bluefrog Design for med-tech design solutions
Technology builds upon itself. The lessons learnt and developments made in one project are then applied to the next. At every stage of the R&D process Bluefrog Design combines experience of proven design with research into emerging technologies. We bring together our knowledge and our intense curiosity to create innovative solutions. And each time we do, we specialise a little more in the medical sector.
R&D projects are, by nature, experimental. They bring together a consortium of specialists from different industries around the world to share ideas and to push technology to the next level. They are fast paced, stimulating and challenging. Through successful collaboration we develop exciting new design solutions, and keep Bluefrog Design at the frontier of emerging technologies.
Join us at the Med-Tech Innovation Expo at the NEC to find out more about the science and technology behind EHDA, and other medical solutions developed by Bluefrog Design. We will also be including the launch of our new 3D Printing Service in Medically Compliant Materials. See you there on stand G20B