We've always said that innovative product design is all about people. We have regular contact with brands, experts and manufacturers. However, it's not so often that the end user is involved early on in the development, leading to a detailed wishlist for a product packed with features we know they'll love. Until recently, that is levitra genérico india.
In May 2018 we were approached by Red Consultancy and McDonald's to work on a promotional design to coincide with the World Cup. Red, in collaboration with UNILAD, had created a digital marketing campaign using Insta-polls to gain insight into their target audience. The outstanding response gave them the criteria for the ideal McDonald's tray.
Design requirements
Over to us. The digital world had provided a list of features that would create the ultimate in laptray luxury – everything a football fan needed to enjoy their McDonald's meal during the World Cup. The list was extensive; a low voltage heated pad to keep a Big Mac and fries warm, a chilled holder for a McFlurry, gherkin tongs and a sauce holder for easy dipping were just the beginning.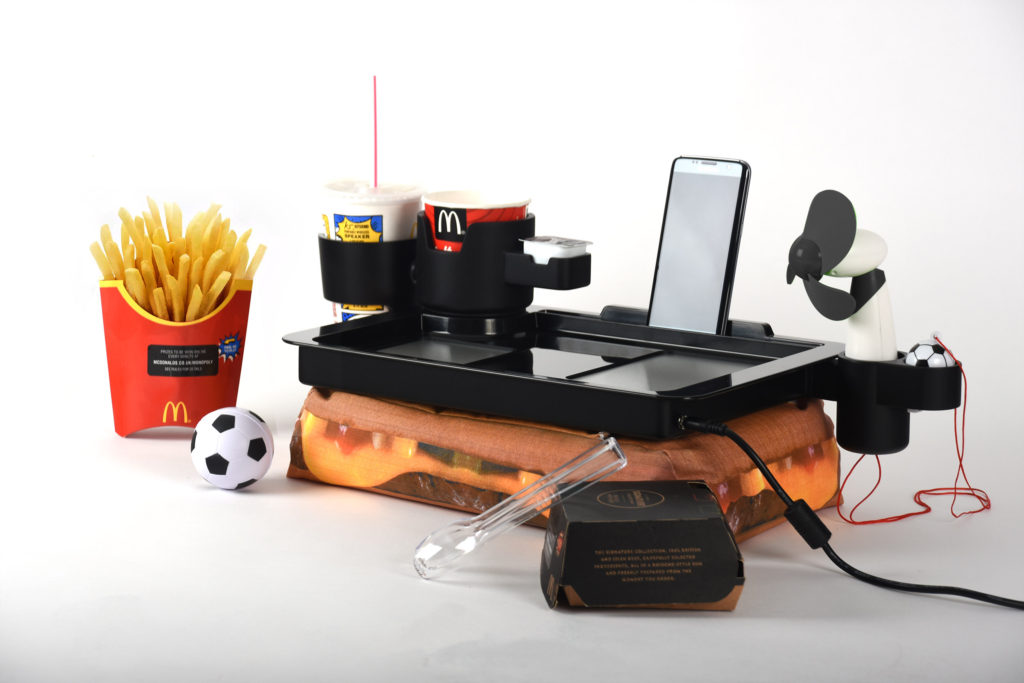 In addition, Red directed us to design a McDonalds's Regular tray. Simpler in function, but still enhancing the eating experience and maintaining the standards of a world recognised brand.
Concept, prototype and production
The power of social media is clearly demonstrated during events such as the World Cup. During the 2014 tournament, the World Cup hashtag was used over 24 million times, and 2018 could only be bigger. Developing a product that engaged with this audience would be an incredible result for McDonald's, so it was vital that the product we delivered exceeded the brief.
Of course, there's always something additional to consider. In order to meet the deadline we had just 3 months from initial conversation to delivery of 5 Ultimate trays and 5000 injection moulded Regular trays, each one resting on a Big Mac beanbag, to be used as prizes in a competition. Speed, therefore, became the focus.
The usual time to create an injection mould tooling can run into months. This time our turnaround needed to be faster, a matter of weeks, to allow for any adjustments. In addition there were various factors to consider, including the process of combining plastics with soft materials.
As each tray came together, we had over 5000 beanbags on a burger printed fabric, for the perfect comfort fit. That's enough to fill 2 x 30ft containers with polystyrene beads.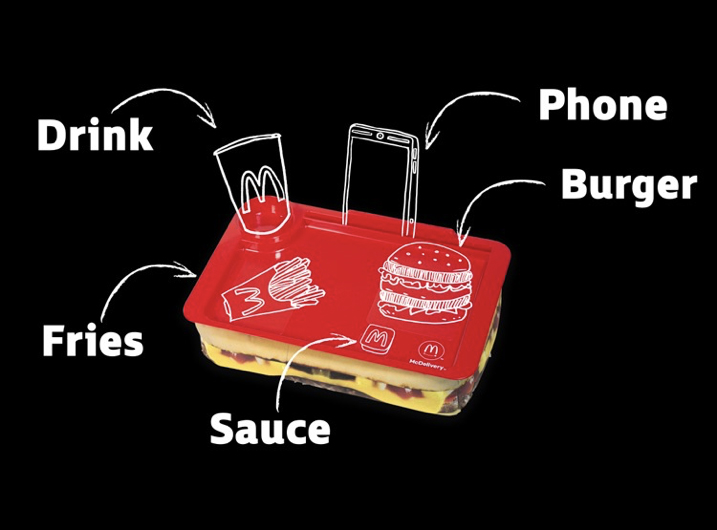 The final review
Having the consumer involved from the start is an original way of gaining insights for new product design, where traditionally a concept is developed before being demonstrated to user groups. However, using the power of social media had two significant outcomes.
Firstly, the audience provided detailed data that outlined the key requirements of their preferred product. Secondly, it also ensured they were buying into the product and participating in the campaign before any design or manufacture costs had started.
For any business considering bringing a new concept to the market, combining the online and physical worlds in this way can be a winning approach.
If you'd like to know more about Bluefrog Design and how we can help bring your projects to life please click here or call us on 0116 2530612.