Too often, great design ideas like yours never go beyond a working prototype – simply because of budget. Tooling and manufacturing costs are just two of many factors that can stop a project from progressing to market. But at Bluefrog Design we don't let these things stop us – in fact we'll help you do the best with your budget. The choices you make, rather than the chances you take, will determine the success of your product. You may ask yourself 'How can I reduce my manufacturing costs?'. Choosing the right design agency is just the first step and it's one we can help you with.
Our people-based approach to design innovation is dedicated to your business and tailored to your needs. We genuinely care about the end users and are committed to making products for people to help people and we want the best for our clients – that means you too! We are a multi-disciplinary consultancy that combines transferable design and engineering skills to visualise your project from start to finish, from your initial idea through to prototype and finished product from an aesthetic and practical angle. We think in depth about your product and how to make it appropriate to the market. We understand that the right processes, design methodology and materials are critical to production. It's where our expertise lies and here's how we can help you reduce your manufacturing costs and improve productivity:
We explore and review the best manufacturing methods to suit your product
Manufacturing is an industry that's changing rapidly and daily. New software and innovative technologies are transforming our capabilities as well as the speed and cost of manufacture. We keep up to date with these so that you have the best choice of options for your product. But our commitment doesn't stop there. We look beyond your brief and at the bigger picture. From our first conversations with you, we develop a unique product design specification to analyse what's required to bring your ideas to life, to identify constraints and highlight opportunities. We empathise and are sensitive to your design ideas and work with you to deliver a successful outcome. We understand the pitfalls and challenges in the creation of an innovative product. Why? Because we've overcome them time and again, not only as designers but also as manufacturers ourselves. We apply design expertise with practical experience to ensure your products are produced economically, environmentally and realistically.
A huge saving in cost and production time can be achieved simply by choosing a different method of manufacture. For example, injection moulding is often viewed as the best process of manufacture for complicated designs, but the relatively high tooling costs rarely deliver a return on investment for low volume production – often quantified in hundreds rather than thousands. In this situation we can help you find alternative manufacturing solutions, such as RIM (Reaction Injection Moulding), vacuum casting or even 3D printing, all of which are capable of producing parts in a range of materials and properties at significantly lower levels of investment – bridging the gap between low, medium and high-volume manufacturing. However, injection moulding becomes viable as quantities rise into the thousands where the trade-off between tooling investment and improved productivity reduces the overall component and finished costs.
We identify opportunities that can make potential savings
At Bluefrog Design, we understand our clients and know what you need to achieve your design goals. We want you to be successful and share the same ambition of launching products into production and helping sales fly off the shelves. Our clients trust us and advise us of their budgets – knowing this information is paramount to us making cost savings and suggesting alternative production processes. For example, modular construction methods could benefit those clients looking to produce a range of items. Although each product is individual, its parts could easily be shared on an assembly line to reduce time and inventory costs. Remember, it's easier for your design agency, as a third party, to see where potential savings could be made. Often when you're so close to something, you need other voices to allow you to stand back and gain perspective.
We make design changes that will benefit the product as well as manufacture
To make production savings, you need to think carefully about every aspect of your product's manufacture, for example:
The build: are there any parts that the customer could assemble?
Are there any parts that don't benefit the functionality or the buyer's purchasing decision?
How will the product be packaged?
All of these things could help you identify where you can make cost savings. Asking the customer to assemble certain parts could save you a percentage of your manufacturing costs and allow you to sell the product at a more reasonable retail price. This could also allow you to package the product in standard packaging rather than needing something bespoke. Removing any parts that the customer won't find beneficial won't just save you costs, it will also get you noticed for positive reasons.
As design experts with years of experience, we understand manufacturing and understand your needs in order to save you time, money and achieve your production goals. Our clients come back to us time and again for added value. Here's an example of how we reduced assembly times and production costs for Vision Plus:
Leading antenna manufacturer, Vision Plus, entrusted us to develop the hardware for the redesign of their new Status range directional TV antennas for use on caravans, boats and motorhomes capable of receiving broadcast signals from any direction.
As with every project, we considered all aspects of production from a manufacturer's perspective, to identify potential challenges and ensure we overcame them both practically and financially. We carried out an in-depth product study which also researched the manufacturing, assembly and transportation process.
Our team went through a stringent process to select and test the best materials suitable from a performance perspective. We carried out extensive FEA (Finite Element Analysis) to test the durability of the product. With some motorhomes and caravans able to travel at a maximum speed of 60mph we knew we needed to optimise and test the strength of the mouldings.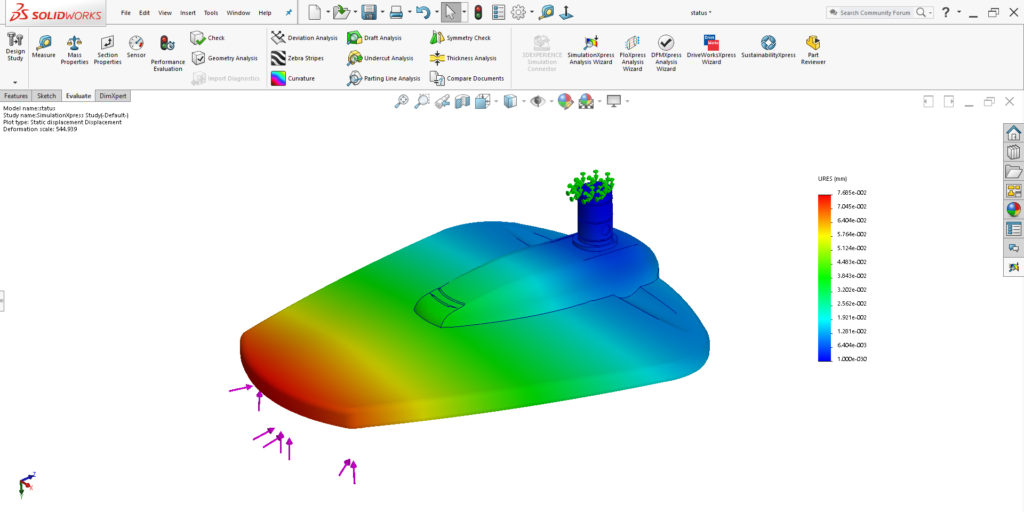 We reduced the material content where possible, to keep manufacturing costs to a minimum – and with our design expertise we achieved this without compromising on quality or performance. We created a more compact design reducing the overall dimensions and wasted space. Our detailed FEA also allowed us to reduce the wall sections – just these two-savings combined achieved a material saving of 21% and reduced costs on a production run of 10,000 units by over £5,300.
Using injection mould tooling and engineering polymers we redesigned the product as a set of ultra – thin mouldings to meet the client's brief, developing these to streamline the assembly process – this allowed us to use different fixing techniques and reduce finishing costs considerably. So, not only did this save the client money from a manufacturing cost point of view, it also saved them assembly time – significantly improving productivity and quality standards.
Less is more
When it comes to production, less often costs more. It's something important to think about, especially with clients often requesting low volume runs during a product's infancy. However, if you can increase the batch sizes where possible, the greater the quantities the more economical the unit price will be.
Cheaper landscapes
Offshore sourcing is another way of reducing manufacturing costs, however it's not one that we endorse. As Pro-Team members of the British Industrial Design Association (BIDA) we fully support British manufacturing and Government initiatives to grow the industry within the UK. Reducing costs is important to us at Bluefrog but so are ethics and, as members of the Chartered Society of Designers, we follow a strict ethical code of conduct with every client – and treat your brief with the utmost confidentiality.
If you'd like to know more about Bluefrog Design and how we could help bring your projects to life drop us a line or call us on 0116 2530612.